Stockbridge MA
Norman Rockwell Museum Exhibition: Never Abandon Imagination
-
The Norman Rockwell Museum presents Never Abandon Imagination: The Fantastical Art of Tony DiTerlizzi, an exhibition of works by the acclaimed illustrator/writer that will be on view at the Museum from November 11, 2017, through May 28, 2018. Known for his successful book series The Spiderwick Chronicles, DiTerlizzi is widely celebrated for his images of such fantasy creatures as fairies, trolls, sprites, and goblins.
Never Abandon Imagination, which has been organized by Norman Rockwell Museum, will showcase over 150 original paintings and drawings, from the games Dungeons & Dragons and Magic: The Gathering, to his many fantasy and children's books, in addition to artworks from his childhood and college years. The exhibition will highlight the artist's influences and artistic process.
Just as his early work on video games is treasured by devoted fans of the genre, DiTerlizzi's award-winning books—including The Spiderwick Chronicles; Ted; The Spider and the Fly; The Story of Diva and Flea; and The WondLa Trilogy—have inspired a new generation of young readers.
DiTerlizzi has influenced fans and fellow creators alike. "Tony's work has a distinct flair, a love for monsters if you will," notes celebrated filmmaker Guillermo del Toro. "His creatures have the charm of Henson or Rackham but they carry with them hints of their own ecosystem. He stands alone as a creator of worlds and a weaver of tales."
With a style heavily influenced by Norman Rockwell, Arthur Rackham, Brian Froud, and others, DiTerlizzi has paid homage to those illustrators, capturing their essence in his magical tales.
"Having a retrospective at the Norman Rockwell Museum is an incredible milestone," says DiTerlizzi. "I grew up copying his drawings and wishing I could be an illustrator like him. It's very meaningful to me to be able to have my work hanging alongside these paintings that are now iconic."
Tony DiTerlizzi began playing Dungeons & Dragons as a child, and the exhibition presents several early drawings, including handmade trading cards, of the young artist's favorite characters. The artist went on to work as a professional illustrator for D&D during the 1990s, and the exhibition features character designs from 1993's AD&D Monstrous Manual and 1996's AD&D Planescape, where DiTerlizzi was the first artist in the company's history to serve as the sole illustrator for an entire book.
Through the lessons he learned creating characters, designing worlds, and capturing the attention of his audience, the artist transitioned seamlessly into writing and illustrating children's books. Highlights from this section include original artwork, reference materials, and props from such acclaimed children book series as The Spiderwick Chronicles and The WondLa Trilogy. The exhibition also includes original artwork from Jimmy Zangwow's Out-of-This World Moonpie Adventure (2000), his first book for children; Kenny & The Dragon (2008), a retelling of Kenneth Grahame's 1898 book The Reluctant Dragon; and the Paris-inspired The Story of Diva and Flea (2015), created with fellow author/illustrator Mo Willems. Other works showcase the impact of other illustrators on his art, including the Charles Addams and Edward Gorey-influenced book The Spider and the Fly.
Never Abandon Imagination will also feature a number of digital interactive displays, delving further into DiTerlizzi's artistic influences and the process behind The Wondla Trilogy. Other highlights include a 23-stop audio tour personally narrated by the artist, a video interview, animations and soundscapes complementing the works on view.
This exhibition is sponsored in part by The Keator Group, LLC and The Pittsfield Cooperative Bank. Additional support provided by Simon & Schuster, Disney Publishing Worldwide, Gotham Group, The Max & Victoria Dreyfus Foundation, and The Dr. Robert C. and Tina Sohn Foundation. Media sponsor: WGBY Public Television.

The Norman Rockwell Museum is proud to offer free admission programs to active military and their family.
Active U.S. Military welcomed with free admission to the museum year-round. Valid military I.D. required.
Active U.S. military and immediate family receive complimentary free admission to the museum between Memorial Day and Labor Day. Valid military I.D. required.
About Norman Rockwell Museum
Norman Rockwell Museum holds the largest and most significant collection of art and archival materials relating to the life and work of Norman Rockwell. The Museum also preserves, interprets, and exhibits a growing collection of original illustration art by noted American illustrators, from historical to contemporary. The Norman Rockwell Museum Art Collection and Norman Rockwell Archive inspire a vibrant year-round exhibition program, national traveling exhibitions, and arts and humanities programs that engage diverse audiences. The collections, which are made accessible worldwide, are a comprehensive resource relating to Norman Rockwell and the art of illustration, the role of published imagery in society, and the American twentieth century.
Since its inception, Norman Rockwell Museum has explored the impact of illustrated images and their role in shaping and reflecting our world through changing exhibitions, publications, and programs. Dedication to a deepened understanding of the art of illustration has led to the formation of the Rockwell Center for American Visual Studies. The first of its kind in the nation, this research institute supports sustained scholarship and establishes Norman Rockwell Museum's leadership in the vanguard of preservation and interpretation relating to this important aspect of American visual culture.
Norman Rockwell Museum is located on 36 park-like acres in Stockbridge, Massachusetts, Rockwell's hometown for the last 25 years of his life. The Museum is open year-round; closed Thanksgiving, Christmas, and New Year's Day. From May through October, hours are 10 a.m. to 5 p.m. daily; from November through April, hours are 10 a.m. to 4 p.m. Monday through Friday, and 10 a.m. to 5 p.m. on weekends and holidays. The Museum will be open 10 a.m. to 7 p.m. on Thursdays during the month of August. Rockwell's studio is open May through October, 10 a.m. to 5 p.m. Museum admission is $20, $18 for seniors, $17 for military veterans, $10 for students, and free for children 18 and under. Visit the Museum online at www.nrm.org.

Norman Rockwell Museum
413-298-4100
9 Route 183 (Glendale Ave)
Stockbridge , MA 01262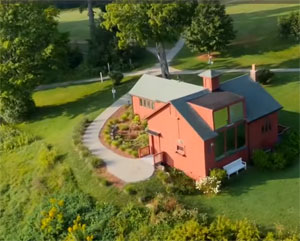 Iconic
Illustrators Trail
Visit 3 Great Museums and Save
Adult Admission Ticket: $44

Family Pack
(2 Adults, 2 Children): $120

Explore the worlds of iconic illustrators Dr. Seuss, Eric Carle, and Norman Rockwell and save with a combined ticket package. Enjoy the scenic trails to three amazing museums located within an hour radius of each other.