The Zoo in Forest Park, Springfield MA
The Zoo in Forest Park Zoo Camp
-
Explore the lives, habitats and conservation of animals around the world during school break, Feb. 19 - Feb. 23 from 9 a.m. to 3 p.m. Before and after care hours are available with prior reservations and for an additional fee.
Activities include:
Animal circle - meet a new highlighted animal each day
Diet prep demonstrations - see what goes into preparing diets for over 100 animals at the Zoo
Enrichment activities - create toys and foraging games for the goats, sheep, birds and other animals
Scavenger hunts
Arts & crafts
... and much MORE!
PRICING:
Zoo Members $200 for the session
Non-Members $220 for the session
Daily rates of $50 member/$55 non-member are also available
Less than 10 spots remain, so book today! Call (413) 733-2251 x305 or email
education@forestparkzoo.com
The Zoo in Forest Park and Education Center is a nonprofit organization governed by the Forest Park Zoological Society. Situated in Forest Park, a 735-acre woodland park in Springfield, the zoo features exotic and indigenous animals representing a large variety of species found throughout the world and in North America.
The Zoo in Forest Park and Education Center
293 Sumner Ave
Springfield MA
413-733-2251
Our mailing address is:
293 Sumner Avenue
P.O. Box 80295
Springfield, MA. 01138-0295
www.forestparkzoo.org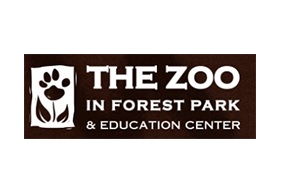 Forest Park in Springfield, Massachusetts, is one of the largest urban, municipal parks in the United States, covering 735 acres of land overlooking the Connecticut River. Designed by the renowned landscape architect Frederick Law Olmsted, Forest Park features a zoo, aquatic gardens, and outdoor amphitheater, winding wooded trails, and expansive views. The site of America's first public, municipal swimming pool, and the only other location outside of Washington DC for the JFK Eternal Flame.
Sumner Ave, Springfield